Volunteer
Volunteer with us

Student Refugees is a student-driven project that assist people with a refugee status to access higher education and support them after they have been accepted.

Why Student Refugees?
The process people with a refugee status must go through to be accepted to a Danish education can be complicated. People who bring part of – or an entire degree form their home country do not always have official documentation. Many need their current education assessed and certified before they can apply for university.
The people with a refugee status who are accepted to university need a fellow student, who can help them get started with study life as well as practical issues.
Do you want to help out?
We have two options for volunteering in Student Refugees
1) Become a part of our guide team, who guide and support people with a refugee status in the application process.
The Tasks:
Participate in an Application Café, where you and other volunteers meet up with refugees, and support them in the application process.
Communicate with and meet up in your team of volunteers
Contact refugees on email
We expect you use around 15 hours a month on volunteering.

We are looking for volunteers who:

are studying or employed at a university.
Speak/write fluent English
Are able to participate in the Application Café at least one time a month (Wednesdays 17.00-19.00) and besides that answer emails from refugees.

You don't need any specific knowledge about the educational system or the application process. We will provide you with the information you need.

We are not accepting new volunteers in the Student Refugees project at the moment. 
2) Student Refugees Buddies Program
Give a great start of study to a person with a refugee background with our new buddy program
The tasks
Meet up with 1-2 persons with refugee background every 2.-3. week.
Keep in touch with the person(s) and be available for questions.
Participate in joint social and educational activities with other volunteers.
We expect that you meet with your buddy 1-2 times a month for a period of 6 month.
We are looking for volunteers who:
are studying or working at a institute of higher learning
Speak/write English and/or Danish fluently
are at least at the 2nd year of their education.
You will have an introduction, before we get started, so you have the knowledge and tools you need.
The mentorship starts again in the fall of 2020. 
As a volunteer in Student Refugees you get:
The opportunity to help refugees get a Danish education and better conditions in Denmark
Training and network with other volunteers.
You will be part of Studenterhuset's Volunteers, which offers you a series of social and academic events.
We are looking forward to recieve your application.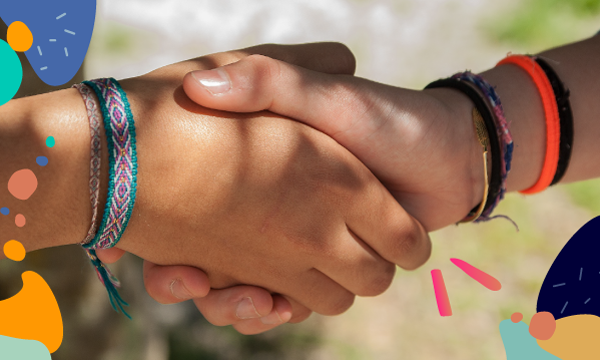 Do you have any questions?
If you have any questions or would like to know more about the project, please contact the Project Coordinator Sara Jensen at info@studentrefugees.dk.